5808 McKinney Falls Parkway, Austin, TX, 78744
---
---
Top reasons to visit
Photos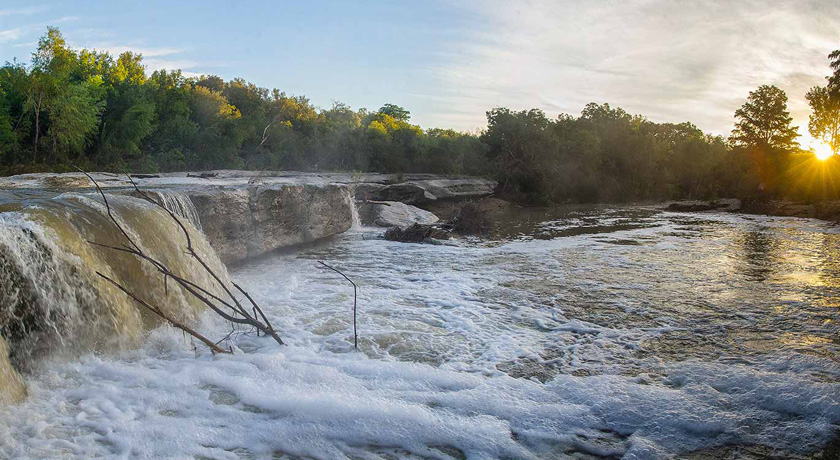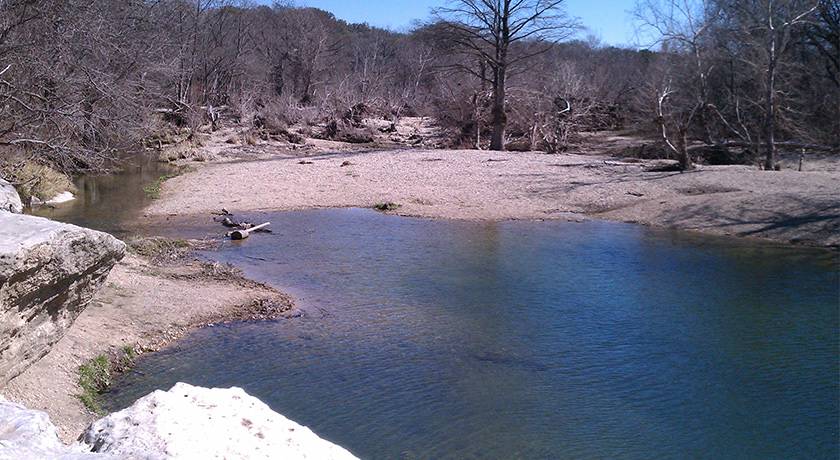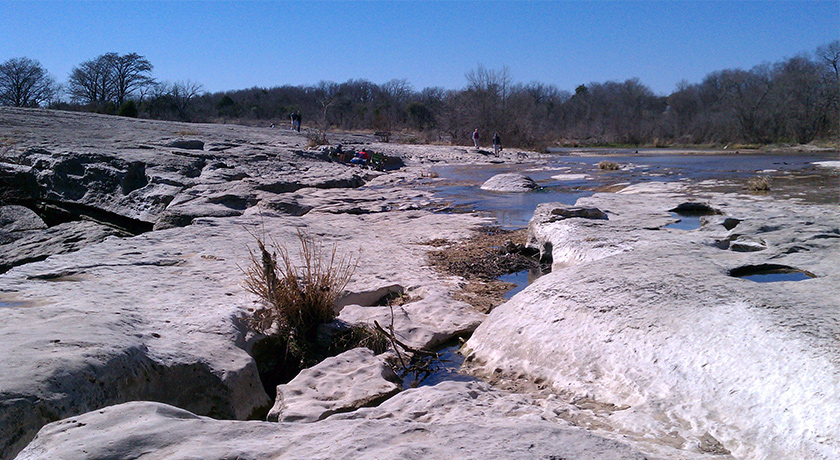 Scenic photo spots
You'll find plenty of scenic spots for photos at both the Upper and Lower Falls as well as in the bluebonnet fields. The Rock Shelter (along the Rock Shelter Trail!) also makes for some very scenic and photo-worthy spots.
Features
Family-Friendly Features
---
Park Features
---
Recreation
---
Our overall family-friendliness score:
BABY-FRIENDLY

TODDLER-FRIENDLY

OLDER KID-FRIENDLY

OVERALL FAMILY-FRIENDLY FEATURES

UNIQUE ASPECTS
Star ranking definitions:

: Not for kids

: There are better options

: Not bad, kids had fun

: Worth the trip

: Amazing, a must-do with kids
BABY-FRIENDLY: Baby can do more than just sit in a stroller or be carried around
TODDLER-FRIENDLY: Things are toddler level; designed for toddlers
OLDER KID-FRIENDLY: Things are meant for older kids
AMENITIES: General family-friendly features
UNIQUE ASPECTS: Wow factor
What is it known for – why go there?
McKinney Falls State Park is known for its many small waterfalls, the many places to play in water (including lots of places to jump off the rocks into the water) and scenic hiking.
Wildflowers, particularly a large bluebonnet field in the spring makes for great bluebonnet photos – and without having to stop on the side of any busy roadways! If you see bluebonnets on the side of the road, you're sure to have a field of them great for picture taking at McKinney Falls.
McKinney Falls State Park is also known for good to great fishing. In fact, the opportunity for catching Sunfish is rated as Excellent while Catfish and Largemouth Bass are rated Good. I've heard of people catching Crappies but have not caught any myself. There are harvesting limits but if you get a catch that is longer than the minimum length, you'll be allowed to bag it.
There are plenty of places to drop a line, especially along Onion Creek and, like at all state parks, no fishing license is required when fishing from within the park. For more information, take a look at the park's fishing tip sheet which also has some handy basic info such about how to tie fishing knots: https://tpwd.texas.gov/publications/pwdpubs/media/pwd_lf_p4505_0090u.pdf
Fees
Entrance Fees
Adult: $6 Daily
Child 12 Years and Under: Free
If you have a Texas State Parks Pass, you and your passengers (or 5 other people if by some other non-car mode of transportation) will be admitted for no charge. If you plan to go to Texas state parks a few times over the next year, you should consider buying a pass if you haven't already. More info here: https://tpwd.texas.gov/state-parks/park-information/passes/sppass-faq
Best trails for families:
There are several named trails at McKinney Falls State Park, two of which are great for little legs, but only one that is actually (fairly) stroller friendly.
Rock Shelter Trail
0.6 mi. / 15 mins / Easy / Not stroller friendly
You'll have to skip the stroller for this one, but it is a short enough trail that you'll likely be okay carrying a baby or walking with a toddler. The shelter provided by the limestone "rock shelter" makes for noticeably cooler temperatures and makes a great photo backdrop. We definitely recommend checking this trail out if you're up for a short hike. Kids (and adults, too!) are sure to love the uniqueness that the rock shelter provides.
Onion Creek Hike and Bike Trail
2.8 mi / 1.5 hrs / Easy / Mostly stroller friendly
This is the only paved trail at McKinney Falls State Park and is the only trail that is generally fine to take a stroller on. Expect to find shallow water crossings and mud after big storms but otherwise, it is a great, well-maintained trail year-round.
There's only one steep incline that will provide a bit of a workout, especially if you're pushing a heavy stroller or carrying a tired kiddo. The rest of the trail is fairly flat as it meanders around the park. The views aren't particularly spectacular except as you pass by the Upper Falls but there's a lot of shade, you'll walk along the Onion Creek, and you'll hardly notice civilization, though a few homes are noticeable along the Southernmost part of the trail.
There are several picnic tables along the trail as you pass alongside Onion Creek, great for a pit-stop with the kiddos. If you happen to be there to camp, you'll find plenty of spots near the water on this trail.
Where to park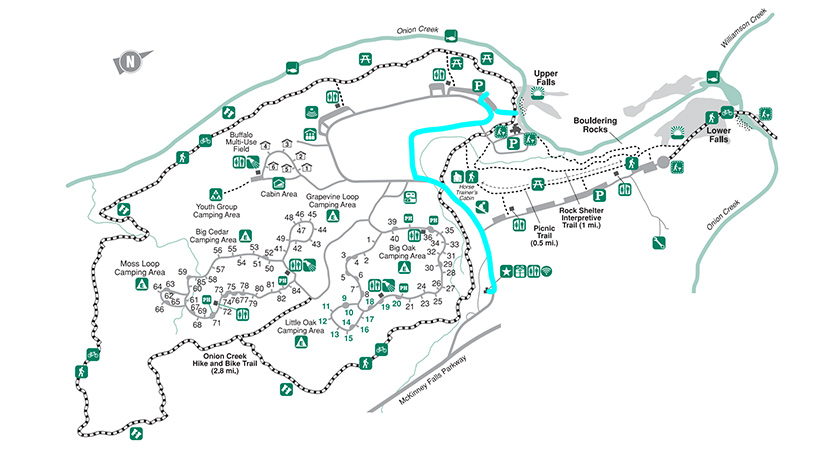 There are a lot of places to park throughout but if you're mainly interested in parking close to the Onion Creek Hike and Bike Trail or checking out the often scenic views at the Upper Falls, you'll want to try to park in the lot closest to the Upper Falls – see the map below. If this lot is full, you can typically find parking near the Rock Shelter. If you're mainly interested in checking out the Lower Falls, park in the Rock Shelter lot.
How to keep the kids entertained:
The youngest kids may stay pretty entertained with all the sites and sounds of nature, even if they're stuck in a stroller for a while.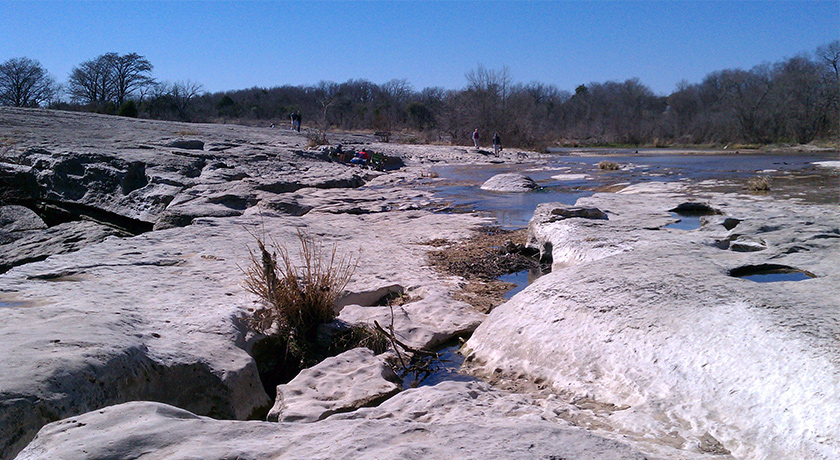 If they're not in the water, on the trails, fishing along the coastline, or playing at the playground (it's small and gets very hot in the summer since there isn't any shade on the playscape), you may want to check out the Junior Ranger Activity Journal. It's free and available at the office when you first check in, but you can also check out a PDF version here – especially if the office is out of the packets. We found it to be mostly geared toward kids aged around 5-13 but there are still some bits of info that you can explore with younger kids. If you're trying to foster a love of the outdoors and curiosity in general, this is a great booklet to pick up!
What will interest kids most:
The limestone rock ledges, getting in the water, hiking amongst the trees, and if the water is flowing enough, the waterfalls. If the kids are between the ages of about 5 and 13 and interested in learning about nature, they'll likely enjoy the Junior Ranger program.
What can be skipped (if short on time):
The playground. It's certainly not the main reason for visiting the park and there are many better options around the city.
Are there places to let the kids roam?
There are a lot of wide-open spaces from fields to what could be described as fields of limestone (often with lots of small puddles) where even the young kiddos can roam and still be seen. As you're in a state park, you won't have to worry about car traffic once you're off the main streets but during peak seasons, there will be a lot of foot and bike traffic in the most popular sections. Older kids will do fine roaming more but a buddy system is definitely advised as the park is large and the water can be deceptively deep in various areas and the water can get to moving quickly. We've seen kids get unintentionally swept over slippery rocks into deeper sections. Tho they ended up fine, it can be a bit scary (and/or fun depending on the situation!).
Younger kids will be best off in the Lower Falls section where the water is calmer, the ground is flatter, and there are generally many shallow sections – even shallow enough for toddlers to splash around in.
Staying overnight?:
There are 83 campsites throughout the park, including 6 four-person (recently renovated) cabins with air conditioning (I'd rate A/C as a must if camping during the summer, especially with young ones), microwave, mini-fridge and other amenities. If staying overnight during the hottest part of the summer (pretty much May-August), or during the coldest months (January-early March) this is the best option for a family with young kiddos. Weekends are often booked far in advance but there tends to be good weekday availability.
Best campsites for families with young kids:
All of the cabins are close to the restrooms anyways but 4 and 6 are the closest. Cabin 6 (the only one that is fully handicap accessible) happens to be closest to the parking lot if you happen to have a lot of stuff to haul in. In addition, cabin 6 is what we'd recommend booking if you're unsure how well your kiddos will do throughout the night because it is slightly more secluded. If you're worried about making noise and waking up your neighbors, this cabin gives you the best shot of not being heard.
If tent camping is more your style, you want to save a few bucks (a campsite is about 1/4 the cost of a cabin), or you want more freedom to choose a site, there are plenty of spots to choose from. Again, if you're worried about waking up your neighbors, we have a specific recommendation. Site 66 juts out just a bit and is slightly more secluded than other sites.
If camping during the warmer months, you can't go wrong finding a site with shade. Grapevine Loop and Moss Loop both have a lot of shade which you'll appreciate for keeping things a bit cooler for naptime or just to keep your ice chest cooler. As a bonus, these sites have a bit more privacy than most of the sites in other parts of the park.
All campsites have electric and you'll certainly never feel as though you're primitive camping.
No RV sites are available anywhere at McKinney Falls State Park. If you show up in an RV, there are a few spots to temporarily park for the day but nowhere to overnight.
When to go
Spring and Summer are the busiest times for the park as there are often plentiful flowers and there is often water to play in. During ongoing drought conditions – which are fairly common as summers drag on in Texas, there likely won't be nearly as much water flowing as usual.
One major consideration during the summer: If there hasn't been much rainfall and if the summer has been consistently hot, it's not recommended to play in the water as the temperature of the water itself can be high and that can be a breeding ground for bacteria. This is also a consideration if you're planning on fishing. If the water's hot, fishing won't be as successful.
Moderate to heavy rains will have the water flowing fast and furiously and can very quickly make it unsafe to play in the water. Even hours or even sometime a full day after very heavy rains, the waterfalls will still be roaring and unsafe to play in. If you're planning a trip during or after heavy rains, at least check the park's website before heading out as they'll post about the conditions of the park.
Austin rarely gets snow but it can get pretty chilly during the winter months, especially in the more open, flat areas where there aren't trees to protect you from the wind, like around the lower falls.
Must-see and do
If you're taking kids in the warmer months, you'll definitely want to come prepared to play in the water. There isn't a pool and there are no lifeguards on duty so be prepared for the unexpected.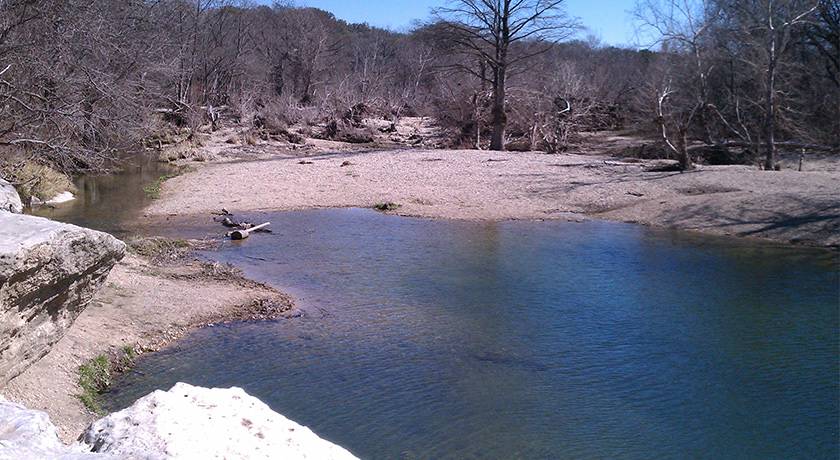 Rest areas (places to nurse, bathrooms, changing tables, handwash/water):
Like a lot of parks, there aren't a lot of amenities available in this regard. Make sure to bring your own soap, water, and wipes. You won't find designated changing tables and bathrooms are pretty bare bones. We found that showers were generally clean but again, bring your own supplies and we'd certainly recommend wearing something on your feet.
How long should you plan to be there:
This depends on your plans and the season. If all you're looking to do is take a stroll on the one paved trail, allow at least a couple hours to finish the entire loop of the Onion Creek Hike and Bike trail. This is exactly what my family did when we went on a cold day in January. If you're going during hot weather and plan on wading or swimming, pack a picnic, plenty of sunblock, and plan on staying a while.
If the kids get hungry (is there a place to get food? Kid friendly menu? Healthy options?):
Make sure to pack food and water – and make sure you don't leave anything behind when you leave…don't forget the lessons of the Junior Ranger 🙂
There aren't any restaurants nearby and the store/gift shop isn't of much help so my recommendation is to arrive prepared with what you'll want to snack on. Bring more water and food than you think you'll need, especially in the summer when temperatures can get well above 100 degrees.
Is McKinney Falls State Park a good place to take the kids?
Absolutely! It's a great state park and only a short car ride away from the center of the city and offers a lot of outdoor activities from hiking and biking to swimming and fishing. Not only that, it is one of the best places in the city to go for family photos in bluebonnet fields. If you've seen pictures of waterfalls and limestone cliffs in Austin, chances are good that you're viewing a photo from McKinney Falls. There is only one trail truly suitable for a stroller but with all the limestone lined creeks and sites and sounds only found in a state park, this is definitely a park worth loading the kids up for.
Upcoming Week's Weather at McKinney Falls State Park
Other tips and recommendations:
Walking/wading in some areas can be very slippery due to moss growing on the smooth rock bottom so I like to bring grippy water shoes to make getting around easier. Our kids have tried out several water shoes for kids with varying amounts of luck. I personally love my Keens but haven't invested quite as much money for the kid's version as my kid's feet just keep growing.
Pets are not allowed in public buildings or the cabins but if on a leash, are allowed on the trails. It's important to note that pets are not allowed in the water.
Pets are not allowed in the water at McKinney Falls State Park
If heavy rains have occurred or are expected, you'll likely be best off avoiding the park as the creek quickly rises and the water can really get to roaring. The trails also get muddy fast – even the paved trail will get muddy in some areas and will, at times, have small water crossings that can be an obstacle with a stroller or little legs.