Browning Hangar, 4209 Airport Blvd. Austin, Texas 78722
---
---
Photos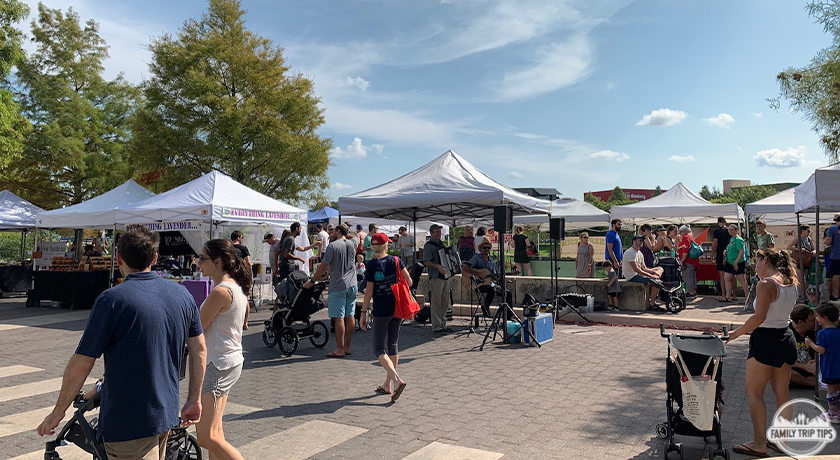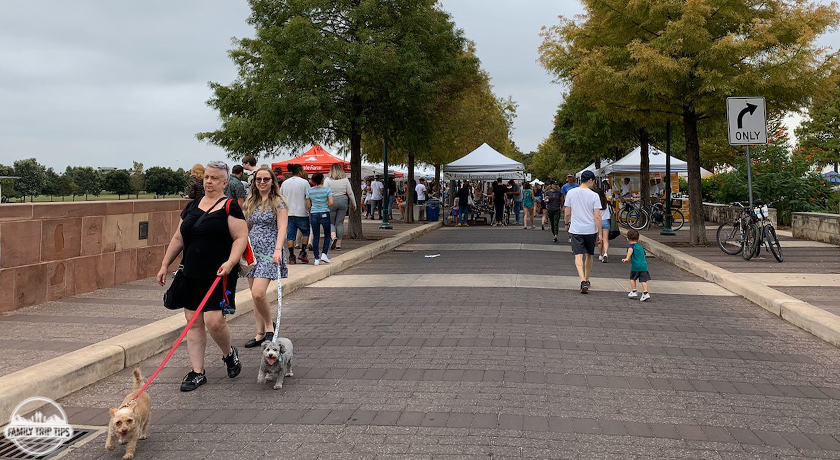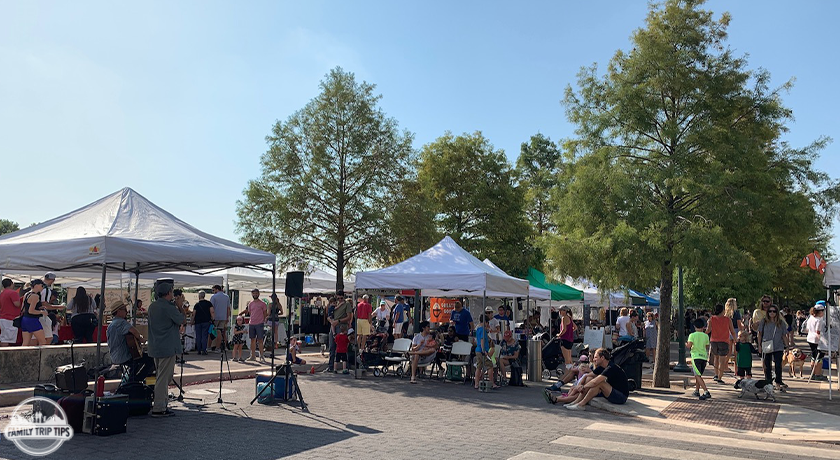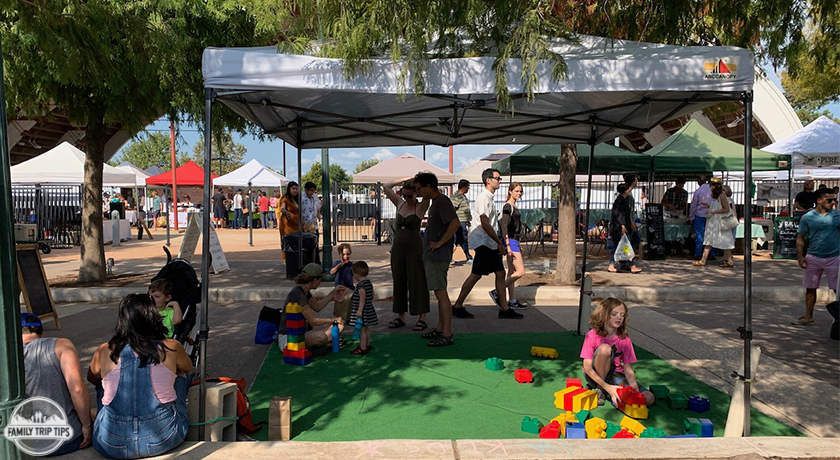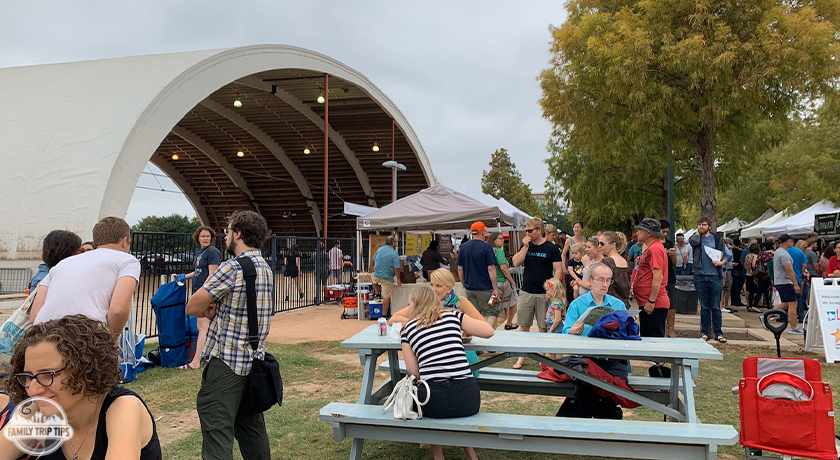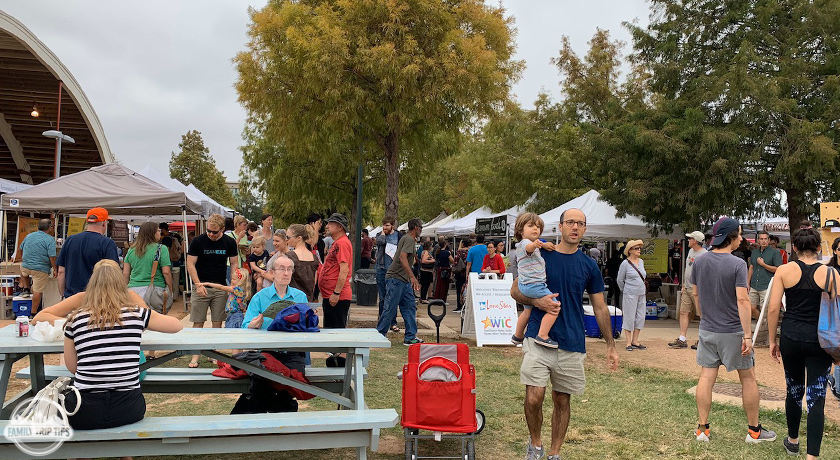 Features
Family-Friendly Features
---
Our overall family-friendliness score:
BABY-FRIENDLY

TODDLER-FRIENDLY

OLDER KID-FRIENDLY

OVERALL FAMILY-FRIENDLY FEATURES

UNIQUE ASPECTS
Star ranking definitions:

: Not for kids

: There are better options

: Not bad, kids had fun

: Worth the trip

: Amazing, a must-do with kids
BABY-FRIENDLY: Baby can do more than just sit in a stroller or be carried around
TODDLER-FRIENDLY: Things are toddler level; designed for toddlers
OLDER KID-FRIENDLY: Things are meant for older kids
AMENITIES: General family-friendly features
UNIQUE ASPECTS: Wow factor
About the Texas Farmers' Market at Mueller
What was once an airport, Mueller is now known as a modern, family-friendly, developed community that has something for everyone. Head over to the Browning Hangar on Sunday mornings or Wednesday evenings and you'll stumble upon a local gem – the Texas Farmers' Market at Mueller.
The Texas Farmers' Market is organized by a non-profit and is a producer-only (vendors can only sell things they produce themselves) market that helps support local farmers and businesses and a great way for local Austinites to shop for the freshest ingredients.
Texas Farmers' Market – Mueller
Texas Farmers' Market at Mueller
Open Sundays (Rain or Shine) from 10:00 a.m. – 2:00 p.m. and Wednesdays from 5:00 p.m. – 8:00 p.m.
Address: At the "Browning Hangar" 4209 Airport Blvd., Austin, TX 78722
Website: https://sustainablefoodcenter.org/programs/sfc-farmers-market/sfc-farmers-market-downtown
Parking at the Texas Farmers' Market Mueller
The Texas Farmers' Market at Mueller has a great central Austin location with plenty of parking options. The good news is that there is FREE parking available in Mueller, the not-so-good news is that it's limited and might not be the closest. There is a small parking lot off of Airport by the Hangar and another small parking lot closer to the Mueller Lake Playground that are both free and within walking distance to the Farmers' Market.
There is also street parking, however, with Mueller rapidly growing, be aware of parking meters (i.e. some might require a residential permit) and when you have to pay. (Sundays are always free.)
However, if you don't want to search for parking – there is the McBee Parking Garage located by the Thinkery and Alamo Drafthouse that charges $1 an hour and a maximum of $10 for the day.
Parking Map Photo Credit: https://texasfarmersmarket.org/
Things to Do at the Texas Farmers' Market Mueller
As mentioned in our SFC Farmers' Market posts, we love to shop at Farmers' Market because not only are we supporting local farmers, but we're able to support a sustainable process for our groceries.
What's especially unique about the Texas Farmers' Market at Mueller is all the family-friendly things to do surrounding the market. You literally can spend an entire day with the family in Mueller enjoying the playground, the lake, the market, and visit the several shops and restaurants in the area. (Not to mention Mueller is home to Austin's Children's Museum – the Thinkery.) It's one of our favorite ways to spend time with our kids outdoors.
Texas Farmers' Market – Mueller – Vendors
You can find everything from groceries such as organic, grass-fed meats, organic produce, local honey to non-edible products like lavender, soaps, and candles. You can even find homemade dog treats! And let's not forget the plethora of local eats. (With options for gluten-free and vegans!) You can find a complete list of market vendors here.
The Most Kid-Friendly Farmers' Market in Austin
Aside from the location and the proximity to the playground, the Texas Farmers' Market at Mueller is (in my opinion) the most kid-friendly market in town. Not only do they have dedicated vendors that'll attract kids, they also have a tent space in the middle of the market just for kids to play (typically large Lego blocks) and also have live music (on Sundays).
When we've gone, they also had a face-painting booth, Tiny Tails Petting Zoo, and pony rides.
We've also went to the Fermentation Festival – an annual festival they host in October all about fermented foods with workshops, panel discussions, and delicious samples! Check their events page to see what's coming up.
Other Family Tips
Here are some other tips to consider while you're visiting the Texas Farmers' Market in Mueller with your family:
Like other farmers' markets, the aisles are fairly narrow. You can get away with a small single stroller. Leave the big and double strollers at home.
There are on-site portable toilets with water to wash hands, but it's still a good idea to bring wipes!
Bottom Line: Is the Texas Farmers' Market at Mueller a Good Place to Take the Kids?
Yes! I believe it's a great place for both toddlers and older kids. Not only is there a lot to do, there's a lot to see, and eat!