Republic Square, 422 Guadalupe St, Austin, TX, 78701
---
---
Photos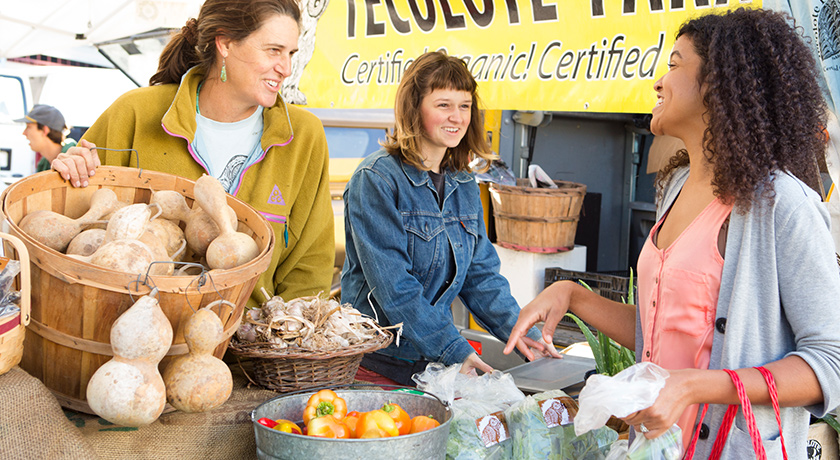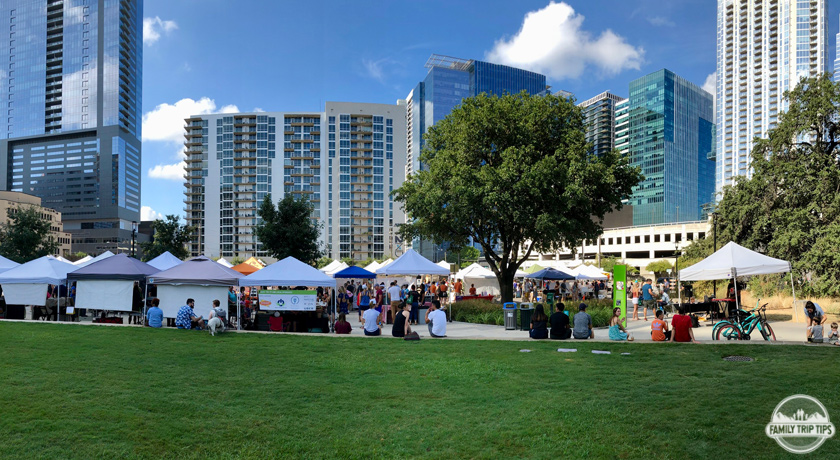 Features
Family-Friendly Features
---
Our overall family-friendliness score:
BABY-FRIENDLY

TODDLER-FRIENDLY

OLDER KID-FRIENDLY

OVERALL FAMILY-FRIENDLY FEATURES

UNIQUE ASPECTS
Star ranking definitions:

: Not for kids

: There are better options

: Not bad, kids had fun

: Worth the trip

: Amazing, a must-do with kids
BABY-FRIENDLY: Baby can do more than just sit in a stroller or be carried around
TODDLER-FRIENDLY: Things are toddler level; designed for toddlers
OLDER KID-FRIENDLY: Things are meant for older kids
AMENITIES: General family-friendly features
UNIQUE ASPECTS: Wow factor
About the Downtown SFC Farmers' Market
Something that tops the list of "things to do this weekend" is a trip to the farmers' market – a mecca for chefs, food and health enthusiasts, artists, and of course families. The sun is shining and you hear the whirring sounds of trucks opening for vendors to unload their recent harvest, meats, honey, desserts, and so on. One by one, tents and tables are being set-up, ready to welcome eager customers who are on the hunt for the freshest and most local produce available.
Serving a well-balanced and healthy meal is a priority for most families and we're no exception. What better way to get our kids to see where exactly their food comes from than a trip to the farmers' market (aside from the actual farm of course)?
As a family, we plan on visiting all the farmers' markets in the greater Austin area and provide a breakdown of general tips, where to park, what's available, what we love the most, cons (if any), and how family-friendly it is.
The first on our list is probably the most popular farmers' market in Austin – the SFC Farmers' Market at Republic Square. (They have 2 locations, one at Republic Square and the second location is at Toney Burger Center in Sunset Valley.)
SFC Farmers' Market – Republic Square
SFC (Sustainable Food Center) Farmers' Market
Open Saturdays (Rain or Shine) from 9:00 a.m. – 1:00 p.m.
Address: Republic Square, 422 Guadalupe St. Austin, TX 78701
Website: https://sustainablefoodcenter.org/programs/sfc-farmers-market/sfc-farmers-market-downtown
Situated on Republic Square in downtown Austin, the SFC Farmers' Market has over 100 vendors and you can find everything from grass-fed, pasture-raised meats, local produce, CBD-infused products, cold-pressed juices, and even delicious vegan avocado ice cream. What's great about the SFC Farmers' Markets is that they are producer-only, which means that farmers only sell what they grow and other vendors can only sell products that they produce themselves. This allows for customers to support local farmers and get the freshest ingredients to their home and on their plates!
Parking at the SFC Farmers' Market Downtown
Often, my husband and I will decide whether or not to go somewhere with our kids based on how easy parking is. Fortunately, the SFC Farmers' Market has a dedicated parking lot that is free and right next to it – show up early and you shouldn't have a problem finding a spot. We got there around 9:45 a.m. and there were plenty of spots. Also, there is metered street parking that is free until 11:00 a.m., and a garage located on San Antonio St. that costs $7 for parking.
Things to Do at the SFC Farmers' Market Downtown
Once there, we like to start at the west "entrance" (4th and San Antonio St.) where you'll find farmers and ranchers selling fresh eggs, meats, and produce. Expect to pay a little bit more on produce and fresh meat than you would at your grocery store (except for Whole Paycheck), but it's worth it. The most compelling reason is that you're supporting our local farmers who spend a lot of time and effort in growing and raising wholesome food. It's one less thing to worry about when you know a) their produce is organic and/or non-gmo and b) the animals were raised in a non-cruel environment.
Additionally, what's unique about shopping at the farmers' market is the ability to speak with the farmers directly! You can ask questions about how they grow their produce and/or how they raise their animals that you then turn-around and serve your family. You can also get information on visiting their farm for a tour. We like that our kids are exposed to a variety of foods and flavors – that they might have otherwise not tried.
While we haven't purchased from every vendor, we'll highlight the ones we have purchased from.
Can You Taste The Difference Between Farmers' Markets vs. Grocery Store Products?
We had a quick chat with Kris with Milagro Farm, who sells "solar powered" eggs – which means their farm is 100% powered by the sun. The biggest difference between their eggs and pasteurized eggs you find at the grocery store is that their eggs are never more than 1 week old, whereas the eggs at your grocery store are months old – "you can taste the difference." You can also find turkey and duck eggs at the farmers' market.
Tents to Hit-up with the Kids at the SFC Farmers' Market Downtown
One tent you do not want to miss is "Taste the Place" – where you and the kids can sample a multitude of products from different vendors. They also take it one step further by preparing different foods using products you can find at the market to try. At our most recent trip, our son enjoyed trying pickled okra, gluten-free chocolate chip cookies, and pears.
Another tent that was one of our toddler's favorites is Julie Myrtille's French pastries. Their tent is hard to miss as they always have a crowd. They're generous with their samples and our son loved every single one but ultimately decided on their famous almond croissant – which is seriously one of the best things you'll ever taste. We also really like that she only uses non-GMO ingredients and sources local ingredients when she can.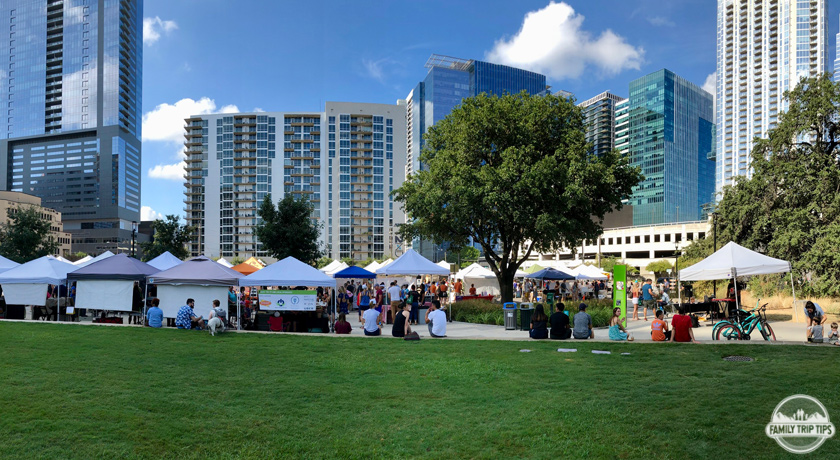 And finally, if you're out and about in Texas heat, what helps make your trip more enjoyable is a refreshing cold juice from Pharm Fresh. We found out they are owned and operated by Peoples RX. Their juices are cold-pressed which maximizes nutrient output and they don't add sugar. They have samples of all of their juices, but we chose "beauty tonic" – the pairing of the beet and pomegranate was just too good to pass up.
Other Kid Activities at the SFC Farmers' Market Downtown
Aside from shopping and eating, the downtown location has live music and offers a large lawn area for the kids to run and play. It's a large enough space to bring outdoor toys like a ball to kick around. You can also check on their website for any upcoming kid-specific activities.
The only downside to just about any farmers' market is that there is limited walking space between the tents, making it difficult if you have a big stroller to get through with kids. We recommend using a smaller stroller and leaving the double stroller and wagons at home.
Bottom Line: Is the downtown SFC Farmers' Market a Good Place to Take the Kids?
Yes, especially for older kids who can eat any food. It's a great way to spend time outside while also educating your family on a variety of topics such as farming, gardening, sustainability and to support local businesses.